Explore Medical Cannabis Industry Best Practices from Leading Experts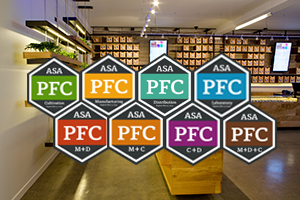 Join Patient Focused Certification (PFC), Monday, March 21st at the Loews Madison Hotel in Washington, DC for indepth deep dive workshops on best practices for the medical cannabis industry. 
As state medical cannabis laws and regulations continue to evolve, medical cannabis-specific trainings have become increasingly mandated. States such as Arizona, Massachusetts, Nevada, Florida, Illinois, Connecticut, Washington, Maryland, Oregon, and the District of Columbia have mandated comprehensive training for all staff working or volunteering in state-licensed medical cannabis facilities. PFC enrichment courses are designed to meet the requirements of state mandated training programs and can help your company reduce the cost of developing, implementing and operating in-house medical cannabis training programs.
PFC enrichment courses allow you to take targeted cannabis training to expand and deepen your understanding of QA/QC, pesticide management and audit protocols.  Offered as two (2) hour workshops, participants can choose to participate in one (1) or all three (3) of the advance cannabis trainings.
You Can Choose From the Following Courses:
Don't miss your chance to enroll at our discounted price. Classes are $100, however conference attendees of the National Medical Cannabis Unity Conference, will receive a special 50% discount for a cost of only $50!
Why Choose Patient Focused Certification?
Our experienced staff members have over a dozen years' experience working in implementing medical cannabis laws nationwide and have helped to develop and improve laws at both the local and state level. The PFC training and education program prepares individuals to learn and understand state and local regulations, as well as the required safety and operational protocols.
In addition, PFC is trusted by governments and regulators across the country and the globe.  PFC currently holds the first government-issued educational permit from the District of Columbia to provide the required staff trainings for the District's legal medical cannabis providers.  PFC has also been awarded a contract with the State of Maryland to train all compliance inspectors for the State's medical cannabis program.
Space is limited, so make sure you Register Today!