News

& Blog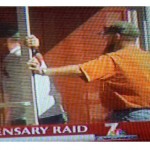 Last week, a well-known local activist and small business owner was effectively shut down when Police raided his office, stole his legal medical cannabis and ordered the electric meter removed. Very little explanation was given.
The bizarre story began...
Contents:
Message from the CA Director: No, it's not over yet
State & Local News: National, California, Oakland, West Hollywood, Laguna Woods, San Francisco, Mendocino County, San Bernardino County, Lake County, Hanford
Public...
---
| ASA Blog